The Beautiful Province
THE PROVINCE OF BRITISH COLUMBIA
Edit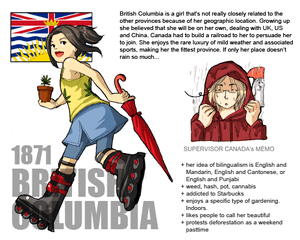 Name:
Victoria (Van) Cheung
Joined the Confederation: July 20, 1871
Gender: Female
Official Languages: English
Motto: "Splendor sine occasu/ Splendour without diminishment"

Close Relations: Canada (Matthew Williams), England (Arthur Kirkland)
The iammatthewian Voice Actors: Caseycat95, Hinaingyou
PERSONALITY
Edit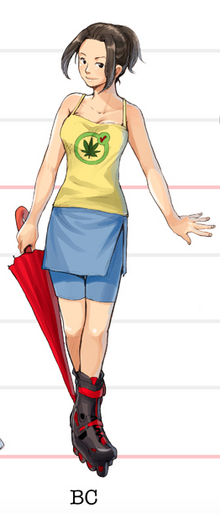 British Columbia is a health and eco enthusiast, owing to her great outdoors and mild weather. She wants people to call her "beautiful" and protests against any kind of environmental destruction, such as deforestation and oil drilling, as it would ruin her 'natural beauty'. Her favourite pastimes are rollerblading, surfing and indoor gardening.
RELATIONSHIPS/ RIVALRIES/ AFFILIATIONS
Edit
BC and Manitoba
Edit
No one really knows with these two. One minute they're fighting, and the next they're protesting deforestation together. Maybe they should just get a room, eh?