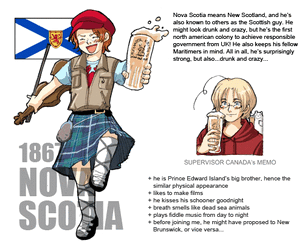 The party province of Canada!
THE CANADIAN PROVINCE OF NOVA SCOTIA
Edit
Name: Joel Alexander Mackenzie
Joined the Confederation: July 1, 1867
Gender: Male
Official Languages: English, French, Gaelic (official regional language)
Motto: "Munit Haec et Altera Vincit / One Defends and the Other Conquers"
Close Relations: Canada (Matthew Williams), England (Arthur Kirkland), Prince Edward Island (Anne Montgomery), New Brunswick (Marie McCain), Scotland
The iammatthewian Voice Actors: Rhinocio, Kyla
PERSONALITY
Edit
Along with Ontario, Québec, and "common-law partner" New Brunswick, Nova Scotia is one of Canada's four founding provinces. He is the first British Colony in British North America to receive a responsible government.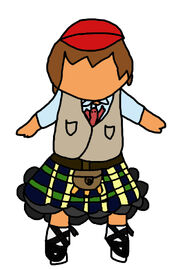 Don't let Nova Scotia's laid-back and party personality fool you. He takes his role as the oldest of the Maritime provinces very seriously. In fact, the Confederation was originally just supposed to be the unification of the Maritime family. Nova Scotia, his long-time common-law partner New Brunswick, and little sister Prince Edward Island. The very real fear of the possibility of Alfred successfully invading Canada pushed them to accept England's proposal to add then-powerhouse couple Ontario and Québec as "The Province of Canada" into the mix. Prince Edward Island didn't like the original terms of the agreement and opted to remain as a British colony instead of joining her brother.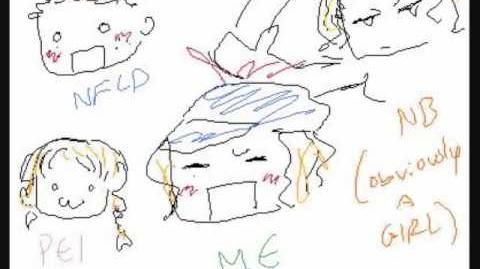 Nova Scotia was not happy with the agreement either. He was concerned that
Ontario
and
Québec
's strong influence would crush and eventually erase the long-held culture and traditions of the Maritimes with their needs being overlooked in the process. Pressured by England, his provincial boss signed Nova Scotia up in the Confederation against his will, and for many years after, Nova Scotia tried to leave the Confederation without much success. True to his personality, Nova Scotia eventually went with the flow but not without working hard to ensure that his, Bonnie's, and his little sister's identities are not erased from
Canada
's landscape.
Nova Scotia's generous nature was made infamous by his role in the Underground Railroad. He opened his lands as a safehaven for freed slaves, loyalist blacks and their families who fought for the crown. Nova Scotia's navy, in fact, intercepted slave ships headed towards Alfred's shores and took the freed slaves in as his own. Today, Nova Scotia's Halifax, is home to one of Canada's biggest African-Canadian populations.
Nova Scotia has also built a reputation for himself as an excellent seaman. The Bluenose, a celebrated fishing and racing schooner, is an icon in Nova Scotia and an important Canadian symbol.
RELATIONSHIPS/ RIVALRIES/ AFFILIATIONS
Edit
Nova Scotia and New Brunswick
Edit
Nova Scotia and Prince Edward Island
Edit