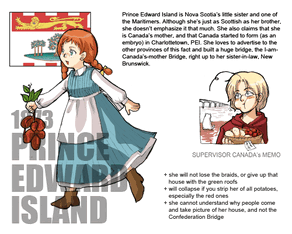 Canada's Mother
THE CANADIAN PROVINCE OF PRINCE EDWARD ISLAND
Edit
Name: Anne Montgomery
Joined the Confederation: July 1, 1873
Gender: Female
Official Languages: English and French
Motto: "Parva sub ingenti/ The small protected by the great"


Close Relations: Canada (Matthew Williams), England (Arthur Kirkland), Nova Scotia (Joel MacKenzie), New Brunswick (Marie McCain)

The iammatthewian Voice Actors: ArtemisFoxCoon
PERSONALITY
Edit
thumb|300px|right|Anne gives a tour of Prince Edward IslandPrince Edward Island is Nova Scotia's little sister. PEI is Canada's tiniest province, but don't let her size fool you. Just like her famous namesake from Green Gables, what Annie lacks in size she makes up in courage and a lot of spunk.
While PEI was not one of the original four founding provinces of Canada, she hosted the Charlottetown Conference in the fall of 1864. It was the very first meeting of Canada's founding fathers which eventually drafted the Articles of Confederation and the creation of Canada in 1867. For that reason, PEI considers herself as Canada's mother and takes the role rather seriously.

In fact, she even commemorated this by naming several buildings and a bridge that connects her to sister-in-law, New Brunswick... much to the initial annoyance of Newfoundland who still thinks she should have built a bridge to him as well.
She can be rather over-protective of her fellow Provinces and Territories. Most especially Matthew... particularly if it involves a European nation with large assets. Sometimes one wonders if it really is just her motherly instincts... but no one really dares to ask the question out loud. She does have a reputation with blackboard slates and cracked heads, after all.
RELATIONSHIPS/ RIVALRIES/ AFFILIATIONS
Edit