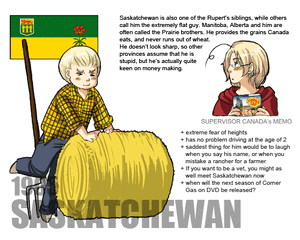 Beware! There be pirates in the River Saskatchewan
THE CANADIAN PROVINCE OF SASKATCHEWAN
Edit
Name: Owen Douglas Carswell
Joined the Confederation: September 1, 1905
Gender: Male
Official Languages: English
Motto: "Multis e Gentibus Vires/ Strength from Many Peoples"
Close Relations: Canada (Matthew Williams), England (Arthur Kirkland), Manitoba (Ilan Riel), Alberta (Ralph Campbell), Northwest Territories (Cymbeline Thanadelthur)
The iammatthewian Voice Actors: Asalieri
PERSONALITY
Edit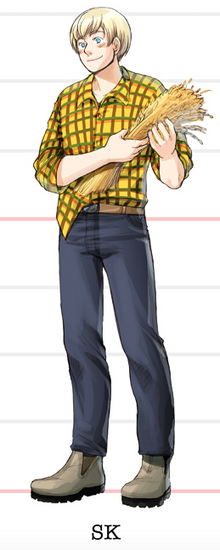 He produces the majority of almost any grain produced in Canada that you can think of especially wheat. Despite being a bit rebellious in 1885 he is usually very nice. Although he is overlooked and people usually seem to think he is a bit boring and not as intelligent, that's just an act. He actually created the medical system. He really cares about his siblings and used to live with all of them in Northwest's house. And he really puts the fan into fanatic, being extremely devoted to his Roughriders. A bit weird too, and a very proud farm boy.
The first non-aboriginals to explore Saskatchewan were Hudson Bay Company traders and the coureurs des bois from Quebec. He used to be a bit of a frenchy back when he, along with Quebec, sided with Louis Riel and the French-speaking Metis in 1885. But now, French is only his third most spoken language. After having quelled a previous rebellion in Manitoba, Ontario was pissed. He had Riel tried for treason and, just to spite Saskatchewan, Ontario had Riel executed right in front of him in Regina. Saskatchewan hasn't rebelled since.
Saskatchewan is proud of his Ukrainian roots, though few know about his and Alberta's original origins, growing up as provinces. He is also one of the few provinces related to Canada by blood, though he hasn't exactly taken to referirng to France of England as his grandfathers, to whom he has a bit of spite for though he says nothing of it.
He has also inherited a seemingly endless patience.
He is still attached to his roots and has a lot of First Nations peoples, and even has Cree as his second most spoken language.
RELATIONSHIPS/ RIVALRIES/ AFFILIATIONS
Edit
The Prairie Brothers: Alberta, Saskatchewan, and Manitoba
Edit
They are very close having been together their entire lives.
Manitoba and Saskatchewan
Saskatchewan and Ukraine
Edit