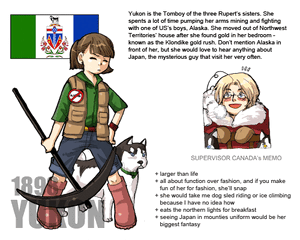 She's bigger than life!
THE YUKON TERRITORY OF CANADA
Edit
Name: Kate Sahneuti
Joined the Confederation: June 13, 1898
Gender: Female
Official Languages: English and French
Motto: None
Close Relations:Canada (Matthew Williams), Northwest Territories, Nunavut (Nanook Puqiqnak), Alberta (Ralph Campbell), Manitoba (Ilan Reil), Saskatchewan (Owen Williams)

The iammatthewian Voice Actors: HapoEatsWaffles, SkydanceShinigami
PERSONALITY
Edit
Yukon is the smallest (geographically!) of the Arctic girls. And yes... her name is not "The" Yukon, or Yukie... it's "Yukon". She may be the smallest of the Territories, but she definitely lives up to her name... being larger than life. She gained infamy when she discovered gold in her bedroom and started the Klondike Gold Rush in 1897, which also started her rivalry with one of Alfred's boys, Alaska.
Her love for the winter outdoors rivals the extreme sport tastes of BC's and her brothers.
RELATIONSHIPS/ RIVALIRES/ AFFILIATIONS
Edit
Yukon and Alaska
Edit
Their rivalry dates back to Alfred and Matthew's arguments regarding determining their borders. Alaska and Yukon still haven't resolved the issues involving their borders in the Beaumont Sea. Though both hold internationally renouned dogsled races. Alaska has the "Iditarod" while Yukon has "Yukon Quest", both races run across Alaska and Yukon. While Iditarod attracts bigger names and stiffer competitions, Yukon Quest (which traces the mail and transport routes between Yukon and Alaska during the Klondike Gold Rush) is race that can only be taken by the strongest of the strong. The race reflects Yukon's die-hard personality as Yukon Quest is considered the most difficult dog sled race in the world.